THE SHOP OF
EVERYTHING
Welcome to The Shop of Everything, an incredible award-winning one-stop shop for all things creatively retail, here at The Museum Everything.
The Shop of Everything opened in 2009 with a few humble t-shirts and badges. Since then it has grown to become one of the most celebrated museum shops in Europe, most recently scooping Best Retail at IDCA 2012.
At The Shop of Everything you can find bespoke homeware, digital pigment prints, creative stationery and womenswear by Clements Ribeiro - like our designer pants, currently modelled by R+B superstar Beyonce.
Our limited edition books and catalogues feature hundreds of masterpieces by celebrated self-taught artists, plus contributions from the likes of Cindy Sherman, Damien Hirst, Ed Ruscha and more.
Check out our full range at
www.shopevery.com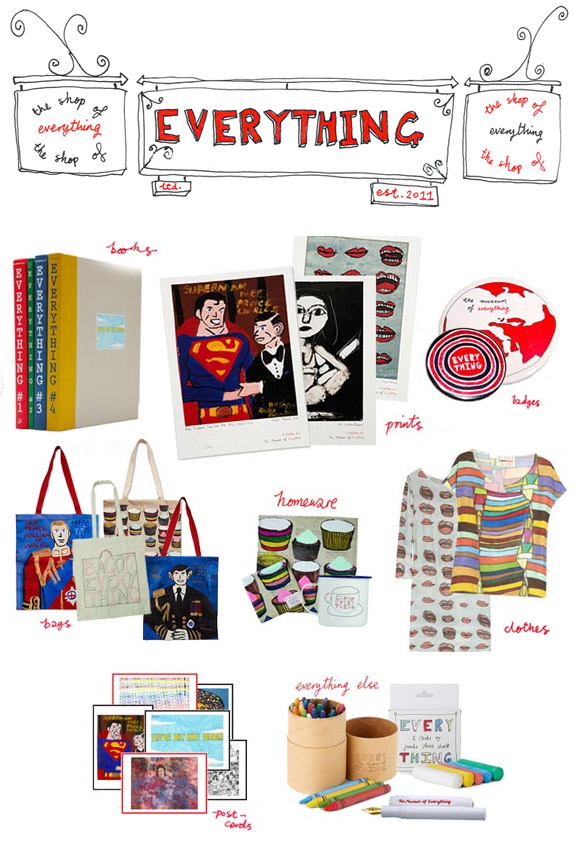 www.shopevery.com
The Museum of Everything is a UK registered charity #1138368. To donate a fortune, feel good about yourself and help the orphans, click here.
To buy one of our beautiful books or other chic schmutter from The Shop of Everything, please click here.
To get on our legendary mailing list, ask a question or to be updated with our every bowel movement, click here or enter your email below: